This is a link to a project in China by Huawei (you have heard of it lately in the business section of the papers).  In any event, if your impression of China is Hutongs, noodle bowls, and legions of Mao soldiers, think again.   The pictures of this educational compound shows that China is investing in education, which is something that USA is no longer in the lead:
Click on the view of the gallery to get the details.
With Alan Taylor
Recent Galleries
---
Most Popular on The Atlantic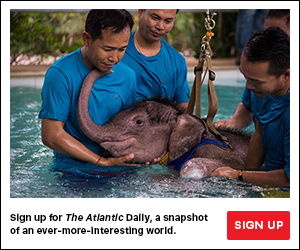 Want a daily jolt of interesting news? Get The Atlantic Daily to see stories, ideas, videos and images.

This email was sent to
juanma2t@gmail.com
You've signed up to receive newsletters from
The Atlantic
. If you wish to unsubscribe from
The Atlantic
,
click here
.
To update your Atlantic Media email preferences,
click here
.
Atlantic Media · The Watergate · 600 New Hampshire Ave NW · Washington, DC 20037
--
****
Juan
Fascism is capitalism plus murder.
 - Upton Sinclair