As observed by a faithful reader, long-time ago fellow traveller through the rough and tumble of an  Amarillo sit-in at Woolworth's, this is the best way to take in the news.  Save yourself a lot of time, and just subscribe to Axios.   All you need to really know in one glance.  No journalistic flair of flowery phrases or candy-coated bull shit.  Give it a try:  Here is an example of today's 1600 Pennsylvania encampment:
PRESENTED BY THE COALITION FOR AFFORDABLE PRESCRIPTION DRUGS (CAPD)

 
Axios AM
By Mike Allen

 

·

Apr 11, 2018
Good Wednesday morning!
Situational awareness: A "protect Mueller" ad runs on "Fox & Friends" and "Morning Joe" today, paid for by Republicans for the Rule of Law, backed by Bill Kristol and others. YouTube
1 big thing: Trump's never-ending transition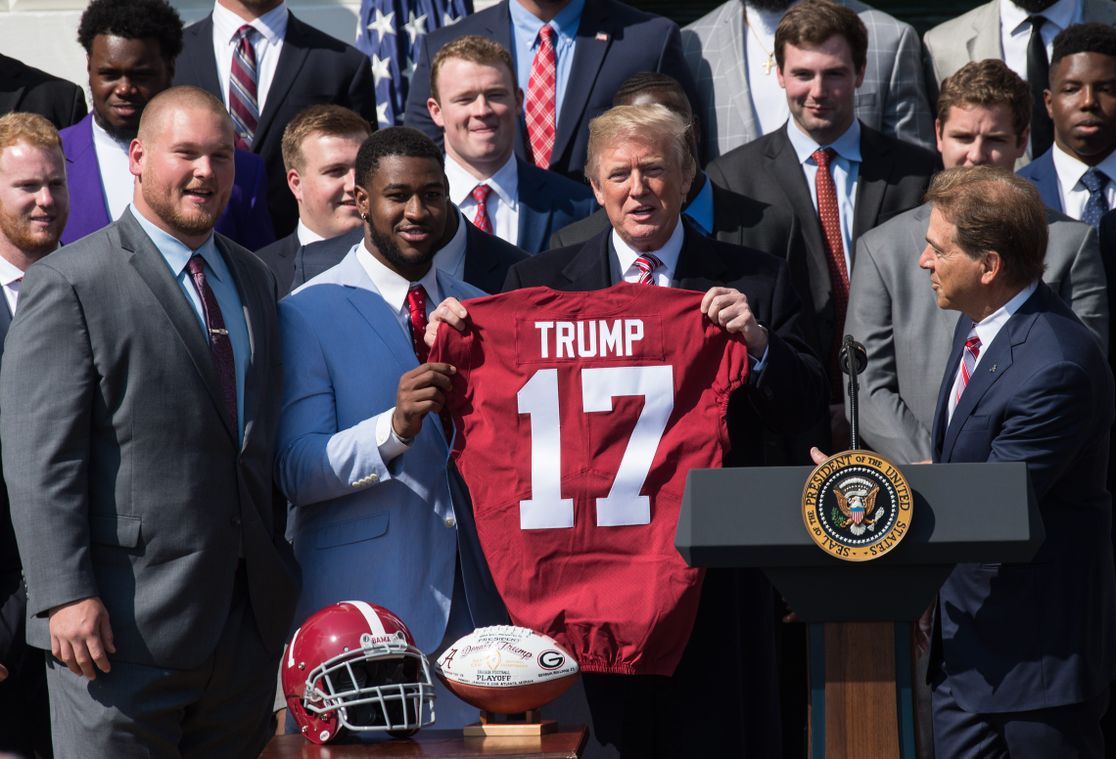 At a college football championship ceremony on the South Lawn yesterday, President Trump receives a jersey from the Alabama Crimson Tide's Bradley Bozeman (left) and Rashaan Evans. (Nicholas Kamm/AFP/Getty Images)
Governing by winging it ... It's as if the post-election presidential transition to power never ended for Donald Trump. Or never began. Everything in this White House is in flux — and in play:
No one knows

 

— or even bothers claiming to know — what Trump will do next.
Few feel

 

secure in their role or power.
Important jobs

 

remain open; important confirmations pending.
The process

 

has broken down, and White House chief of staff John Kelly has lost the steering wheel at critical moments.
Many days,

 

it's governing-by-winging-it. 
Some officials tell us it's like Jan. 20, 2017, every day — with different characters and different plots, but the same maddening improviser, with the same maddening tricks.
Here's what's happening inside, from the deep, 24/7 reporting of Jonathan Swan:
Trump's own psyche

 

in flux: Sources close to the president

 

genuinely fear special counsel Robert Mueller has passed a "breaking point"

 

for Trump. More than one person has used that phrase to us. They worry the president will fire Mueller. A former senior White House official said to me: "I just hope [inside lawyer] Ty [Cobb] and [White House counsel] Don [McGahn] can talk him down." But in the next sentence, this

 

former officialsighed and acknowledged how much Trump finds McGahn irritating and has turned against him.
Personnel in flux:

 

A number of senior staff are leaving or planning to leave. Larry Kudlow will likely lose a good deal of talent he wants to keep at the National Economic Council — with Shahira Knight, the tax expert who was the star of Gary Cohn's staff, at the top of the list. John Bolton has taken charge of the National Security Council, and will be installing his own people. Yesterday, homeland security adviser Tom Bossert resigned (though the White House has not pushed back on the suggestion he was pushed out.)

 

On Sunday

, it was NSC spokesman (and early Trump supporter) Michael Anton.

 

Lists of additional "targets" are circulating among Bolton's allies.
Policy uncertainty:

 

Nobody in the White House or on Capitol Hill claims to know what's going to happen on trade. The business community and the markets are stressed about the threat of a global trade war, or a more intense one with China. Wall Street and K Street are rooting for Trump and Xi to find

 

an exit ramp

 

that allows both men to save face and claim victories, with minimal disruptions to the markets. 
Decision-making

 

has been haphazard and processes have broken down. Exhibit A: Swan's

 

inside account

 

of the $100 billion tariffs threat last week. Even John Kelly was taken by surprise at the speed of the announcement.
Be smart: The result of all of this is a White House that often feels like madness, even to those present for opening night, and still in the cast today. 
--
****
Juan 
Patriotism is not a short and frenzied outburst of emotion but the tranquil and steady dedication of a lifetime.
- Adlai Stevenson