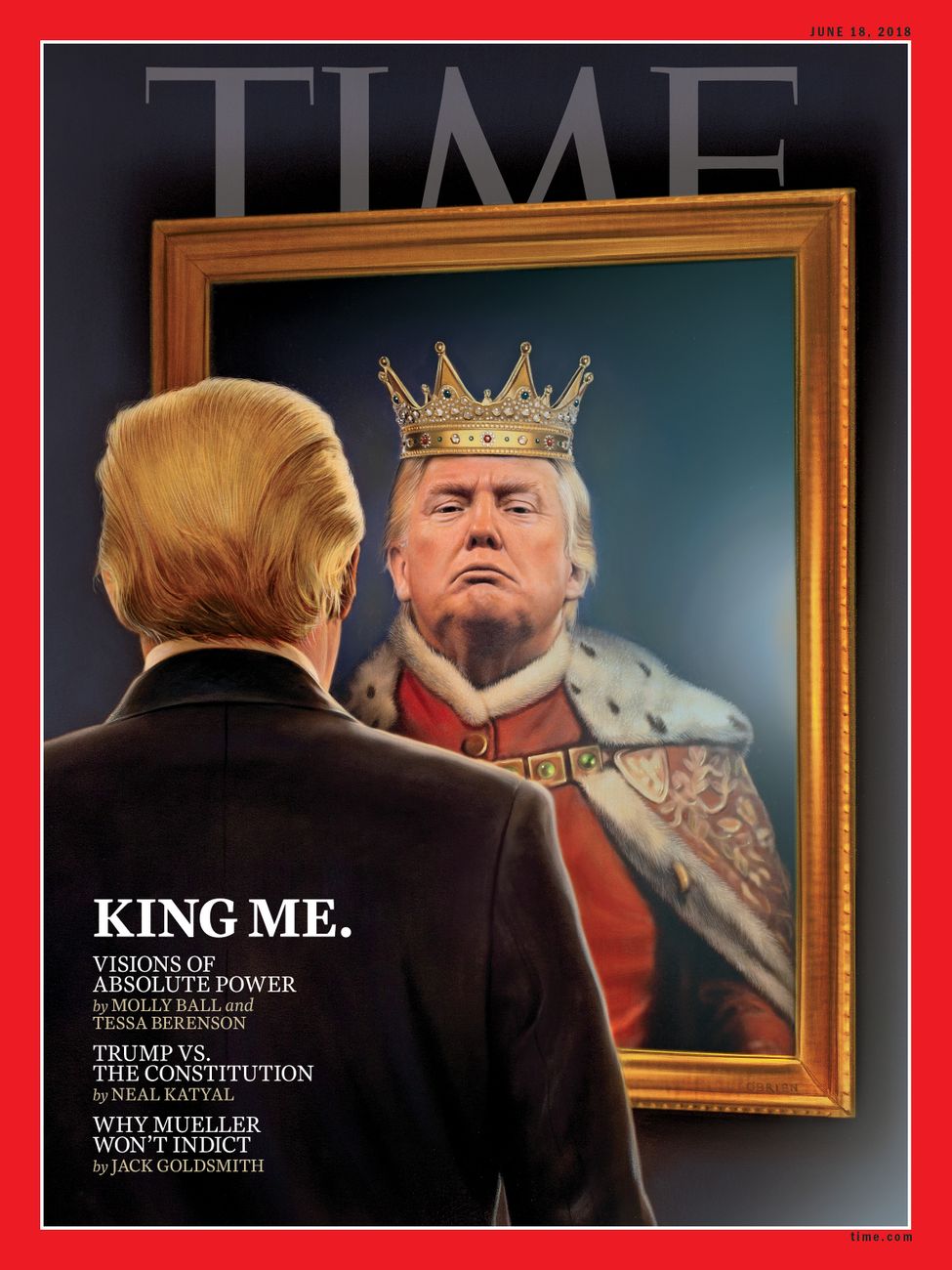 ​While the 45th checks out his mirror, his Congress is the scene of a scramble of pissed off conservatives and moderates trying to do something that avoids having to do something.   ​However, something is going to come out of this that will probably be bad PR for them.   Maybe by tomorrow there will be something to write about.  All that is being done right now is second-guessing what could happen, and the Freedom Caucus of the GeeOpie is trying to shut it all down.
WASHINGTON — Republican lawmakers in the House are hurtling toward a collision over immigration, raising the prospect of a divisive and uncomfortably public intraparty fight just five months before November's midterm elections.
And party leaders are running out of time to stop it.
In the face of a rebellion from moderate members, who are on the brink of forcing a series of immigration votes over the objections of Speaker Paul D. Ryan, Republicans will meet privately on Thursday morning to discuss the issue.
"Our members are earnest and sincere in trying to understand each other's perspectives," Mr. Ryan told reporters on Wednesday, adding, "I really do believe that there is a sweet spot here."
At the center of their discussions is the fate of hundreds of thousands of young immigrants brought to the country illegally as children — known as Dreamers. Here's a guide to the impending showdown.
The future of DACA has loomed for months.
The approaching collision among Republicans has been long in the making.
In September, President Trump moved to rescind an Obama-era programthat shielded young undocumented immigrants from deportation, known as Deferred Action for Childhood Arrivals, or DACA. He gave Congress six months to take action on the matter.
The Senate tried but came up empty, as three different immigration plans failed in the chamber in February. And because the courts have kept DACA alive for now, lawmakers — who thrive on hard deadlines — have felt less urgency to deal with the issue.
Republicans are deeply divided.
For months, there have been clear divisions among House Republicans over how to address DACA.
Some members have lined up behind a bill sponsored by Representative Robert W. Goodlatte of Virginia, the chairman of the Judiciary Committee, that is intended to appeal to conservatives and sharply reduces legal immigration as well. Others have championed a bill from Representatives Will Hurd, Republican of Texas, and Pete Aguilar, Democrat of California, that has bipartisan support and would provide a path to citizenship for the young undocumented immigrants.
With their members split, House Republican leaders have followed a well-worn path in Congress — they have punted on the issue.
Rebellious members embrace a parliamentary tactic.
Moderate Republicans are tired of waiting. And they are now on the cusp of getting their way.
Republican lawmakers are using what is known as a discharge petition, which can force floor action over the wishes of House leaders.
For the discharge petition to succeed, it needs the signatures of 218 members. By Wednesday, it had 215.
Twenty-three Republicans have signed the petition, including members from districts with large Hispanic populations and others who face tough re-election races.
Every Democrat has signed except for Representative Henry Cuellar of Texas, who said he wants a commitment from his party's leadership "saying that they will not support a border wall in exchange for Dreamers."
What comes next is hard to predict.
Mr. Ryan is no fan of the discharge petition, and he is trying to work with Republican lawmakers on an immigration compromise that could make it unnecessary.
Whether moderates and conservatives can find common ground on such a politically challenging issue is unknown. One flash point is the matter of providing young undocumented immigrants with a path to citizenship — and the specifics of what that path would entail.
"We're closer to the magic number to force the issue," said Representative Mario Diaz-Balart of Florida, one of the Republicans who has signed the petition. "But the ideal thing would be if we can have a negotiation that leads to a bill that can pass."
If discussions about an immigration deal fizzle and the discharge petition reaches 218 signatures, it would set up votes this month on four separate immigration plans:
• A proposal put forth by Mr. Goodlatte, presumably a version of his bill.
• A proposal from Representative Lucille Roybal-Allard, Democrat of California. She plans to put forth the Dream Act, a bill that includes a path to citizenship for Dreamers and has widespread support among House Democrats.
• A yet-to-be-revealed proposal put forth by Mr. Ryan.
• A proposal put forth by Representative Jeff Denham, Republican of California, which is expected to be a version of the Hurd-Aguilar bill.
If multiple proposals receive a majority in the House, the one with the greatest number of votes will pass.
A major question mark is how Mr. Trump will respond to any action by the House on immigration. Mr. Trump has called DACA recipients "incredible kids" but has also made steep demands for what must be included in an immigration bill, including wall funding and other hard-line immigration policy changes.
Mr. Trump's reaction is critical. In an interview last month, Senator Mitch McConnell of Kentucky, the majority leader, said he would only return his chamber to the subject of immigration if the House passed a bill that Mr. Trump would sign.
For Republican lawmakers, risks abound.
Immigration is a perilous subject for Republicans, and there is a clear danger for both moderates and conservatives in the days to come.
Moderate lawmakers have shown surprising backbone, but they are a long way from winning the enactment of a law protecting the young undocumented immigrants. If they come up short, those lawmakers could say they tried, but their opponents could point out the bottom line: The fate of DACA recipients is still up in the air.
For conservatives, the thought of a Republican-controlled House passing a bill that they deride as "amnesty" is frightening and could depress Republican turnout in November. "When you mention the A-word," said Representative Mark Meadows, Republican of North Carolina and the chairman of the conservative House Freedom Caucus, "it sends shivers up every conservative's spine."
****
Juan 
Patriotism is not a short and frenzied outburst of emotion but the tranquil and steady dedication of a lifetime.
- Adlai Stevenson